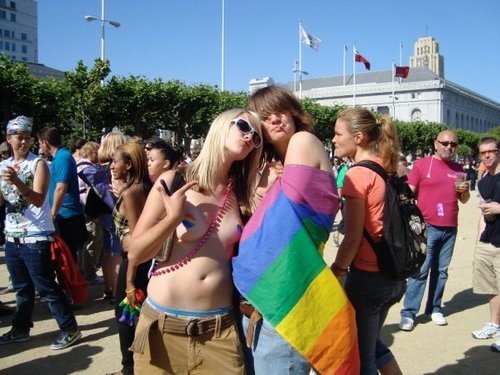 As a woman, the word "gay" does not describe me. I'm told gay is meant to be all-encompassing but if that were so, why do we say "gays and lesbians"? Wouldn't that be redundant? It is similar to how women are told the word "man" is meant to apply to all of *mankind, yet I still get surprised looks when I walk into the men's room.
The next solution offered for describing queers is "LGBT." First, let's admit that "LGBT" is hella awkward. It's hardly the catchy marketing hook you'd expect from a people known for being fashion-forward. More importantly the acronym LGBT goes to the heart of why there is a need for "queer." We need a word that summarizes all the gender and sexuality misfits and tacking together a long string of letters is hardly the best way to do this. "Queer" does not state someone's sexual preference or gender identity. It doesn't say which letter they are to be categorized under. It merely asserts that one doesn't fit into the norm.
I will staunchly defend whatever sexual identity an individual claims—who am I to say I know their loins better than they do? You know that limp-wristed straight guy who carries a man-purse and keeps his eyebrows meticulously groomed? In LGBT circles there's an ongoing debate about when this fellow will accept who he is and come out. This is a shame because the whole point of this movement is to give people the freedom to be whatever they want to between the sheets. Not that I want to encourage closet cases, but pressuring people is not going to make them more comfortable coming out. The word "queer" gets around all that. I can say, "Sweetie, you may not be gay, but you are definitely a little queer," where queer means what it has always meant—divergent from the norm. If he takes offense, then we can have a conversation about why it's OK to be different—fun!
Perhaps what I love most about the Pride movement is that it teaches Johnny Hetero and Susie Vanilla that there's more than one way to be sexual, and that that's ok. When Johnny accepts that some boys like boys he can admit his own hetero fantasy of being dominated.  Recognizing the validity of queer desire can help Susie come to terms with the fact that she can only get excited when she's being secretly watched. Thus even Mr. Hetero and Ms. Vanilla can see the personal value in the Pride movement. While ninety percent of folks are straight, there are very few people who harbor not a single kink in their desires. Deep down, we are all queers.
Reclaiming "queer" is more than a political statement, it can be tremendously helpful to the outliers. This includes not only the perpetually undecided adolescents but also the middle-aged bisexual woman who's been married into a straight relationship for twenty years. "Queer" still describes the gay male who suddenly finds she is "straight" when she comes out as trans. "Queer" describes the intersexed and the hetero cross-dressers and the whole genderfuck lot. Adding more letters to LGBT is not the solution, because that way of thinking continues the idea that we know all the ways to be an outsider. It puts the emphasis on classifying when the truth is that so many of us came together because we are tired of being classified. In the past there has been in-fighting about whether these people are gay enough, whether they counted. I bet there wasn't a single person at the Stonewall riot who would have turned away someone sincerely asking to join the fight and gain acceptance under the queer umbrella.
I say "queer" because I don't want to get hung up on which box to tick. I say "queer" because it is more inclusive and in a game of Us Versus Them, we are stronger when Us is bigger, more diverse. I say "queer" because of all the beautiful people I have known who are not quite straight and not quite gay, but certainly part of this movement. I say "queer" because it reminds people that sexuality is as complicated and personal as the individuals it describes. I say "queer" because there are as many ways to diverge from the norm as their are colors in the rainbow.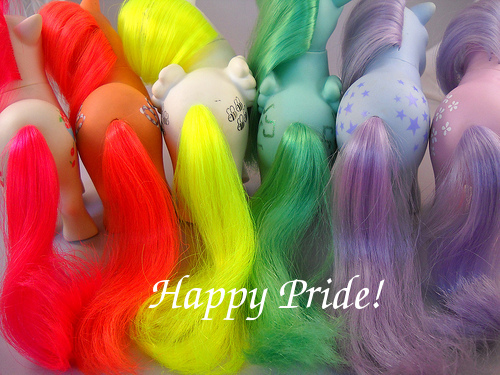 Queer Little Ponies pic thanks to Zak Hubbard.
*For example, does Oscar here describe all people, or only men? "What is a cynic? A man who knows the price of everything and the value of nothing." –Oscar Wilde