Best Electro of 2011 Part II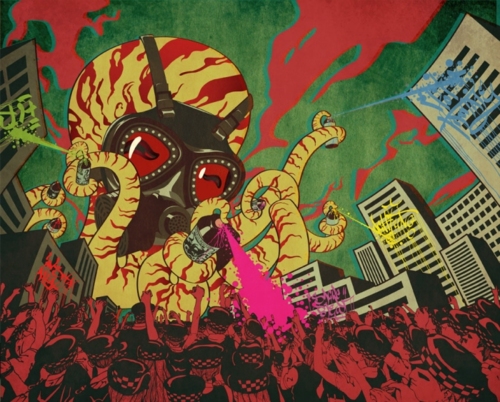 Image by Javier Medellin Puyou
Hey dudes: if you're looking for a song to sing at your woman while you jump around the dancefloor–this is the one.Try dancing like a maniac while mouthing "I'm gonna take you back to my house! I love the feeling when you touch me baby!" and surely you will get laid.
This sounds like it should have been the lead single on the Tron soundtrack. After releasing countless albums, M83 is finally starting to get radio play with this song. No wonder, as the beat makes it a little less dreamwave than most of their other stuff. It's hard to tell where the vocals end and the synth begins. And the passioned cry, "The city is my church!" never gets old.
Remember when Arcade Fire won that grammy and everyone was all, "Who's Arcade Fire?" Strange times we live in. They wouldn't let me on their selection committee, but I suspect one of the reasons they won was for the lyrics that explore suburban angst. Arguably the best of these is this song, "The Suburbs," a song I can't seem to get tired of.This cover slows it down for a sexy groove that makes the beauitful lyrics easier to understand.
Another fun cover that's a bit easier to sing along with than the original. If you haven't heard of Kreayshawn yet, just-you-wait. She's an up-and-coming Oakland rapper, who courts controversy by being not only white, but having a uniquely Oakland-hipster style. Far as I can tell, she doesn't seem to give a fuck, which is the best way to be. The original "Gucci Gucci" is in my collection, but I recognize that it can be a bit too…boldly obnoxious for many. 2011 was a year for sexy slow-downs, and this one contrasts nicely with Kreayshawn's brazen and clever lyrics.
There's a lot of weird, delightful little sounds in "Polish Girl." It's easy to get lost in wondering what toys he's using to create this-or-that sound. Then I remember the lyrics, and get pulled back into the story of the song, until I hear that sound that's like Mario just won a green 1-up shroom, and I'm pulled back into the swirly goodness. When there's too much greatness to concentrate on at one time, you know it's a song that's going to stay on the heavy rotation for many months.
Pure, perfect electro.So happy, it almost sounds like calypso. Yet it manages to avoid sounding too sacharine. Maybe it's because of the emotion in his voice, but it all just works. If you like this song, get this album. One of the year's best.
No really, you should get their album. Listen to "Sunshine Eyes" and get a lesson in how a perfect new wave song is built. Pure delight from beginning to end. Sounds like: the montage music for your summer romance.
The heavy beat on "Stunts" would have made this a good fit for the "Best Dance Music of 2011" list, but the lack of vocals takes some of the energy out of it, so I put it here instead. If you're a fan of Ratatat and Caribou this may be the fix you need.
You love whistling, right? You love a head-bopping, disco beat with a melody that's easy to sing along with right? Well then give this a listen.
I was very excited to hear the new Rapture album, and while I can't recommend the whole thing, this song is a winner. Part of what makes the Rapture so great is Luke Jenner's emotive vocals, and this one is no exception. Four cocktails down, you will have trouble not singing "How deep is your love!" not as a question, but as an exclamation to be shouted to the fullest.
At the beginning of the year, I was obsessing over their new song "Dystopia (the Earth is On Fire)." Well, I overplayed it and now I'm sick of it. But then I discovered that "Paradise Engineering" is even better. Both songs give a nod to the catastrophic state of the world channeling it all into blissed out disco denial. It's a soundtrack for oblivious consumerism in a broken world, which makes it more than good pop: it's the zeitgeist of the 21st century.