This is my friend Evan Peterson. Isn't he handsome? He runs this nifty press in Seattle, and he writes zombie poetry and other things horrific, queer and clever. He has a timid greyhound rescue dog named after a character in an Oscar Wilde story.
This is a mix tape for Evan. So the songs are a little dark or a little queer, or well-stated, just like Evan and the stuff he writes. I've also focused on songs that are new wave, electro, or dark wave as I know those are genres Mr. Petersen and I both favor. In honing the list, I've favored songs that embrace big topics like God while fearlessly examining our shadow selves, because I know Evan Petersen thinks about the heavy shit.
And this is the part where I explain the choices. Because what fun is a mix if you don't overthink it?
Evan's Clever Dark Electro Mix
One of my favorite songs of the new millennium, I think Evan will like it because it has poetic lyrics. I love that it's a queer song that's not a big neon sign bragging about its queerness (I'm looking at you, Katy Perry). It's one of the songs I can't quite wrap my mind around, but it's interesting enough that I trust that someday I will. To me that's one of the hallmarks of good poetry. But what really slays me is the emotion in his voice. I love the force behind the line "Charlie was the first I let lay an anchor in my heart" and by the end he's shouting with a sincerity that I couldn't fake.
It's only fair that Evan's mix includes this song, because for no reason I brought it up several times during my weekend in Seattle. Maybe because everyone we know is writing a novel. Lyrics are pretty important on a mix for a poet, and that's J. Tillman's strong suit. Somehow every song perfectly balances humorous, surreal scenarios against details that make you believe this stuff really happened to him.
For example, the song opens with "I ran down the road, pants down to my knees
Screaming 'please come help me, that Canadian shaman gave a little too much to me!'"
An absurd, funny situation, but why mention that the shaman is Canadian? It's such an odd little detail that makes it that much funnier and more real. This song has a real honky vibe that's not my style but it's so great I don't give a damn if I look like a hick singing along.
Heartsrevolution is dark and artsy in a way I know Evan can get behind. This song is weird because the parts that stick out right away are when she's quoting Britney Spears and Notorious BIG. Then the next thing you're most likely to notice is that the song is prayer to God, and she's got a bad connection ("Can you hear me now?") Or maybe one notices the reference to Osama Bin Laden. It all feels very strangely disconnected. But when you read the lyrics, it all comes together in a way that's surprisingly coherent and somewhat thought-provoking.
Here's a lyric video for I.D.
I.D. "LYRICS VIDEO" from HEARTSREVOLUTION on Vimeo.
Why? Is a weird act from my neighborhood, that using the loosest definition can barely be described as hip-hop. Like many of the acts on this list, I chose him because his lyrics are beyond good and fit well into "Hey, wait, this is poetry" territory. Yoni Wolf's themes are often dark, putting himself in the least-flattering role. One song on this album puts him in the role of murderer, another of his songs begins "I'm not a ladies man, I'm a landmine filming my own fake death." I embrace the theme of "The Hollows," which is arguably the same theme as "Rock N Roll Nigger," and can best be summarized by the line "This goes out to dirty-dancing, cursing Back-masking, back-slidden pastor's kids." To you, Evan, though your poppa may not be a pastor I've seen your moves on the dance floor.
Of all the girl-fronted new wave bands to come along in the past thirty years, none is a more accurate successor to Blondie than The Long Blondes, even going so far as to name their band in tribute. Listening to this album is like hearing the album you wish Blondie had released after their first big comeback. If I were in high school today, the bridge of this song would be the signature in my yearbook:
"Girls fantasize on school trips to galleries
Of men who don't meet their parents' expectations
Who want to introduce them to illicit Russ Meyer films,
And dance 'til dawn to old Kinks records.
These are the things you don't understand
Quarter to ten, you're wasting your time
If you want to know me, watch how I dance."
I'm sure Evan can identify with the line "People think I'm being perverse on purpose" while appreciating a song that comfortably makes use of the word "sycophant" in its refrain.
If I could in a snap make one indie band famous, it would be Cloud Cult. The best live band I've ever seen (and trust, I've seen a few), Cloud Cult makes diverse orchestral songs with deeply poignant lyrics. Many of their best songs were written as a coping mechanism in dealing with the grief of the death of their infant son. So lines like the intensely-repeated "Turn wedding gowns into angel clothes for the baby to wear" are more than just pretty words strung together. While all of their songs are poetic, some have minimal lyrics, so I picked this one because it shows off his writing ability. Lines like "I like the way you touch me, it makes me feel like I have no skeleton" come at cliché themes like love and death in a fresh way.
As another ex-Floridian now transplanted into the West Coast, I want to be sure Kat Dahlia is on Evan's radar. This up-and-coming hippity-hopper hails from roundabouts Evan's home town. I think she's bringing a refreshingly candid approach to hip-hop lyrics.
(Sidenote: I feel like a lot of the more authentic approaches to hip-hop these days are coming from women, with artists like K Flay rapping about drunken depression and Angel Haze giving frank details of sexual abuse. While male rappers bring beauty by pushing their lyrics to more and more absurd figurative language, e.g. Aesop Rock and Childish Gambino. I suspect it's related to the way women are more likely to disparage ourselves while this is still the opposite of what's acceptable in the bragging male rap culture. Curious as to others' thoughts on this.)
From one huge David Bowie fan to another, this mix ought to have some Of Montreal. Not because they are trying to sound anything like Bowie; they're way more folksy and weird than even the earliest Bowie. But it's obvious that Bowie is one of Kevin Barnes's (the mastermind behind Of Montreal) biggest influences. Of Montreal has that same tendency to create a larger-than-life persona as the figurehead of the band as well as the narrator of most of the songs. There's the same love of fantasy elements with narratives that bleed into his own life experiences, and this song is a perfect example. But most importantly, his lyrics are occasionally brilliant.
The stand-out line for me in this song is "We fell back to earth like gravity's bitches/(physics makes us all its bitches)," though I'm almost equally fond of the line "I guess it would be nice to help in your escape from patterns your parents designed."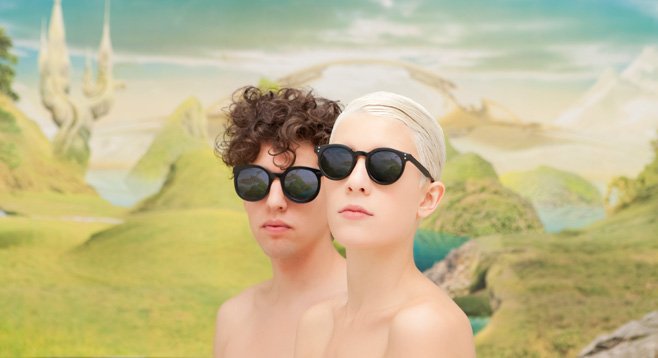 Until I saw them live I didn't realize that Yacht is this generation's Eurythemics. Like Annie Lennox's former band, Yacht are also a new wave duo fronted by a lithe androgynous blonde, and they likewise have lyrics that are a touch smarter than you expect from pop music. This is one of my favorites, and I think Evan will be as drawn as I am to the tongue-in-cheek embrace of fandom and spectacle behind a line like "If you want me to be your God, I will be your God."
You ever have one of those songs you love so much you play it over and over until one day you go too far and you can't stand to listen to it any more? That should be me with this song. I played "Very Busy People" to death for at least two years, yet while making this I got sucked in again and stopped the paragraph I was writing to sing along. It's such a fun, exaggerated description of first world luxury. I hope I don't oversell it in saying I love every line and I wouldn't change a note.
This song has to go on Evan's list because we are very busy people, but we've always got time for old friends.
PS, another Oakland band – W00t!
Gang Gang Dance makes dance music that's not afraid to be weird and strives to be intelligent. I have no idea what they're singing about, but Gang Gang Dance is such unusual ear candy I don't care. Maybe some day I'll figure it out. In the meantime, any Kate Bush fan who likes to get jiggy should have love for the weird vocal stylings in the Gang Gang Dance repertoire.
I know Evan loves new wave  almost as much as I do, so I wanted to be sure to share a few of my favorite new wave synthpop bands that are bringing back the genre from its eighties origin as what is now called electro (not to be confused with elektro, which is what happened to disco in the 80s). In Evan's list I'm sharing specifically bands that have a darker sound, more Bauhaus than New Order. My favorite among this is DIOY,Y?, probably because their lead singer isn't afraid to shout from time to time. I also love their cheeky song titles. Other titles on this album include "Weird Science," "Attack of the 60 Ft Lesbian Octopus," "Let's Make Out," "Being Bad Feels Pretty Good," and the accurately titled "Epic Last Song."
Evan, if you like this song I strongly endorse getting the whole album.
When folks speak of successors to Blondie, most think of Karen O. and the Yeah Yeah Yeahs. And they're pretty great. But their lyrics are weak. Emily Haines of Metric, on the other hand, writes thought-provoking lyrics with more social context than anything Debbie Harry ever made. I also love that while it's clear Haines has a feminist streak, the songs are never simplistic aesops force-feeding us the lesson of the day (e.g. songs like Pearl Jam's "Jeremy" = bullying is bad! Aerosmith's "Janie Got A Gun" = "domestic abuse is bad!"). Contrary to horribly didactic songs like Everlast's "What It's Like" (why my examples all come from the nineties I cannot say), Metric's lyrics are beautifully lyrical narratives that happen to portray the social realities of the world we live in. "Patriarch On a Vespa" is a portrait of "pretty little pillows on floral couches" and her only prescriptive statement is "trying to fix it…when we should break it." The lyrics to "Patriarch On a Vespa" wouldn't look out of place in a poetry anthology.
Most of Metric's songs are a bit more new wave/dancey than "Patriarch On a Vespa" but I trust Evan to welcome a little rocking out now and then, especially in the name of feminism.
The Presets are another of my favorite electro/dark wave revivalist bands. Like a darker Pet Shop Boys or if Depeche Mode had better dance beats. All their songs are pretty much heavy dance jams like this, I only picked "Talk Like That" because of the refrain. Evan will know why.
I have it in my head that Evan is a Le Tigre fan. Kathleen Hanna has just released a new Julie Ruin album but less talked about is MEN, the project from Le Tigre's genderfuck DJ JD Samson. I bet if Evan likes Le Tigre's queer lo-fi sound he'll find some joy in MEN.
Evan may already know Fever Ray, or of her previous project The Knife, so I threw this Twelves remix his way to mix it up. It happens I was slightly obsessed with Twelves remixes for a while, so I have most of them. I know Evan digs weird chicks with distinctive vocal styles. Well Fever Ray's vocals are pretty weird on their own, and on top of that they put a lot of effects on her voice to make the pitch deeper. As for weird, well here's a random video to judge for yourself.
Fever Ray – If Only I Had A Heart video
Probably the best example of Fever Ray's weirdness is this one minute video of her acceptance speech for an award in Sweden.
Like The Presets, Grafton Primary is another electro band from Australia. Not much to say except I like all their songs and I bet you will too. Picked this one because I like to imagine Evan will jam out to this in his car, preparing himself for a tough work day. Don't know why such an uplifting message comes through such a dark melody, but it works for me.
I always like to close a mix with something a little quirky, and LotP certainly qualifies. Their songs are also electro but while they're synth they're not pop. No, Late of the Pier is doing their own thing. What are they singing about? Why does the song have such a stupid title? I do not have the answers, little grasshoppers. But unlike the poetic songs that make up the rest of this mix, "Bathroom Gurgle" is all about letting the music move you to tear shit up. For me that happens at 1:36…like get the fuck out of the way because I will own that dance floor. Maybe this song would be too weird for some folks, but I bet Evan will dig it.
In conclusion, Evan Petersen, thanks for letting me stay at your place during my trip to Seattle!