It is perhaps odd for me to write a eulogy for Kathi Kamen Goldmark because in truth I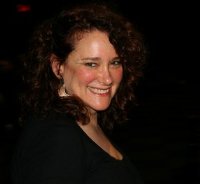 barely knew her. I can say this: she always volunteered to speak or answer questions for the NCBPMA, and because of her friendliness and approachability she was one of the first local producers I knew by name. She was one of those vivacious people that seems to be everywhere, and always smiling to boot. Being a producer is a tough job, and yet she never hesitated to answer a question or offer an explanation about why a certain guest would or wouldn't be a fit for her show. She somehow managed to do this job while writing books and performing in the literary group the Rock Bottom Remainders.
As I've embarked on this journey in the Bay Area publishing world, I always imagined the day when Kathi and I would be friends. Not because she was some milestone of important authors (though she was!) but because she had that kind of warmth that made me think I could do this, that the writing and publishing scene isn't a clique, but a community.
In the coming weeks there will be numerous posts from people who knew her well, that will explain better than I ever can why the loss of this luminary light will affect the Bay Area forever. I only wish to contribute this to make it known how many lives she touched, even among her acquaintances. It breaks my heart to know that I will never be able to tell her what a role model she was for me, and for so many others. But perhaps if you are reading this now, it will remind you of all the lives you may touch, and the special place you may find if you keep following your dreams. A space that is all your own—like Kathi, whose presence in the literary world is irreplaceable. Kathi Kamen Goldmark, you are missed.