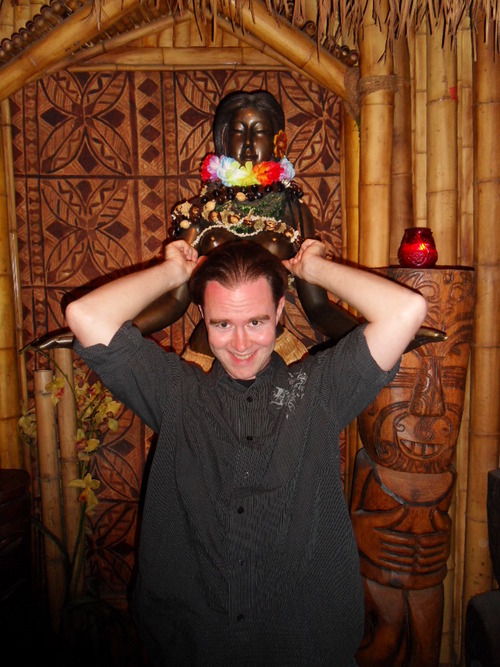 As part of the ongoing crusade to remove trite words from my speech, lately I've taken to using the word "puppycock." This is not to be confused with poppycock. Or rather, it is too be confused so that I may delight in making the correction. I use this word in situations of surprising dismay, such as stubbing my toe or discovering a parking ticket. "Puppycock" is a perfect curse word. It captures something real that civilized people would rather not think about in the space of nine letters. It conveys a clear image of this thing. It is disturbing enough to furrow the brows of my fellow citizens, so that they may join for a moment in my unhappiness. But it is not so disturbing that polite ladies will not sit next to me in the dining hall.
Christopher is a dog lover (considering the context of the curse, I beg you not to read into that) and he does not approve of my use of the word "puppycock." In retaliation, he has taken to using the word "kitty poon." Alas, his blade has reached a tender spot as my psyche wishes I had never heard him utter that terrible phrase. I am not even convinced the phrase existed before he coined it. I suggested he google it to be sure, he declined—a first for the man who, at the whim of an offhand query, spent an hour on Wikipedia last night learning about the Statue of Liberty. I believe he has outdone me. Because no one wants to think about the vag on a kitten. He pointed out that a cat in heat is all too happy to spread the notion but I responded that kittens do not go into heat—only fully mature, womanly cats. Serendipitously we made the discovery that just as "puppycock" sounds like the word "poppycock" "kitty poon" has the benefit of being easily mistaken for "kiddie porn." We look forward to having a conversation that goes something like this:
Civilized fellow: My word! Did you just say "kiddie porn"?
Christopher: No, no, of course not! What kind of gentleman do you take me for! I would not utter such blasphemy as a simple declaration of displeasure!
Civilized Fellow: Thank goodness! There are women and children present! What did you say then?"
Christopher: I said "kitty poon." KIT-TEE POOHN.
Civilized Fellow: [blank stare]
Christopher: You know! as in the immature snatch of a wee baby kitten!
Civilized Fellow: Come along Margaret. We're going back to the first train car with no air conditioning and the writhing hobo.