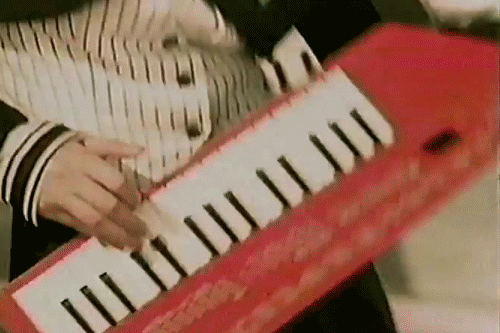 At last, here it is: The best pop songs of 2013 that you haven't heard on the radio. The key word today boys and girls is SYNTH. The more the better. Get it in heaping doses below.
I don't know why I obsessed over this song all year long. Maybe it's because it's so rare to hear a woman in a song who is shamelessly confident without being crass. Or maybe it's because the lyrics are so evocative. Nah, it's probably just that piano riff. In any case, it's one of my absolute favorite songs of 2013.
It speaks volumes about how much I love that Flight Facilities track that this tune from Lily Allen only landed the #2 spot on my list. "Hard Out Here" makes a statement about the state of women in pop music with wit and spunk. It was only released as a single in 2013, but oh, what a track. Without a doubt the best song she has ever done, and that's saying something. Puts Miley Cyrus to shame.
Definitely check out the video, which is chock full of funny pop references, including a knock at the "Blurred Lines" silver balloons that declare "Robin Thicke has a big cock."
Another cute little love song featuring a woman and a piano. This track is more upbeat than "Crave" offering handclaps and a piano melody that works as a secondary bass line. And don't you love the idea of a song about a girl eager to learn your phone number?
THE WHOLE WIDE WORLD IS WHISTLING because of this track. Hear it, and you will be too.
There were a hundred and one remixes "Your Drums Your Love" in 2013 but all of them lacked my favorite part: that little robotic backup vocal.
I absolutely adore Janelle Monae. I got to see her in concert in 2013, and let me tell you she is flawless. I mean from her outfits to her dancing to her voice, she is a 10/10. All her songs center around an android, loosely based on Fritz Lang's Metropolis. Some suggest that the lyrics of this song are a veiled reference to lesbianism, and I can only hope so, as I want to be the first to volunteer to have her babies. Once science figures all that out.
Anyway, about the song. It's funky. You can dance to it, but it's a slow jam. The first verse is vaguely socially relevant, but not preachy. There are horns and violins. The high hat is a finger snap. And it features the backing vocal "the booty don't lie" in a way that feels truly empowering (not, like, Niki Menage empowering).
Oh, yeah and Eryka Badu sings on this track too. What more do you want, blood?
You know how in the eighties they had that really fantastic synth, that was even better because it was super fake? Where all the instruments are just fake synth? If you liked that, you'll like this because Friday Nights has three of them. It's just synth from dusk til dawn, and a guy who can't get his sweet lady to call him back. She's probably too bush shaking her tush to this song.
This list is full of great songs to sing in the shower. "Gold" is the song for hate-crooning, as you soap the back your money-grubbing ex no longer gets to touch. Somehow "Gold" is both dark and light at the same time. The throbbing synth overlaps with a light and tingly piano. He always ends on "I hope you find your dreams" but the part you'll want to sing the loudest is "I don't owe you a goddamn thing!" If you like this, you'll probably like everything else by Sir Sly, who is still waiting their own pocketful of gold for writing gem after underplayed gem.
I haven't totally wrapped my head around Silver Medallion yet. Is he a rapper? An electro artist? Wait, he's trained as a classical violinist? There's zero violin in this song. All I know is I think he's found the theme for the lost generation, the sad moniker for these young folks who are coming into adulthood during the Great Recession (that's a proper noun now, right?). Enough with the questions. I'm certain of a few things: the girls in this song probably are figments of his imagination, but they feel real to me. A bit like the lost kids of Bowie's classic All the Young Dudes…but much easier to dance to.
10. The Knocks – Modern Hearts ft. St. Lucia
Nothing here but synth and a kickass beat. There's a sample that sounds like a synth imitating a bagpipe, and another fast, high synth that swears it just arrived from a John Hughes movie circa 1987. A fun song that didn't crawl higher on the list only because the other songs ahve stronger lyrics. But if you need something to pogo to at the gym, this will get your juices flowing.