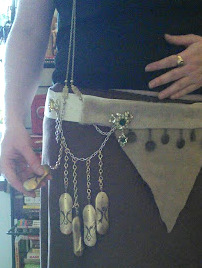 If we met on the playa, thank you! Thank you for being there and for practicing the principles and adding to my amazing Burning Man experience.
If we didn't meet on the playa, welcome to my playa gift and Burning Man 2014 scrapbook! As playa gifts, I gave out these USB sticks, which I painted and hung on my toolbelt.
My Playa gift: A Burning Man Dance List
The mix I put on the USB stick I gave you had some clipping, so I redid it this week. You should download the new mix below.
If for some crazy reason you want the old version, here it is
When I redid the mix, I ditched the Phoenix song and went for Cold Dust Girl instead. It felt more relevant, and the Phoenix song is a little tired (or so I thought but the DJ played it last night at Ecstatic Dance and the crowd loved it—a reminder that most people couldn't give two shits about what is hawt right now).
Hopefully my lackluster DJ skills will be made up for by excellent taste…I like to think so anyhow.
This is a continuous playlist, below you can download the songs individually.
Burning Man 2014 Caravansary Songs and Scrapbook
Click on a photo below to be taken to a section of the scrapbook. Each section has a song to download along with a themed page of the scrapbook. The photos below will direct you to the appropriate page, and when you go to that page that same lyric photo will link to the song (if that's confusing, there's also a plain-old direct link). Read the image captions to clarify which songs and themes each image links to.
Should you get curious and click on the photos in the galleries, most of them have captions. Or go straight for the songs, punk—I don't run your life.
Links to Individual Songs and Scrapbook Pages