Here's the second half of my Best Indie Rock of 2011 selections.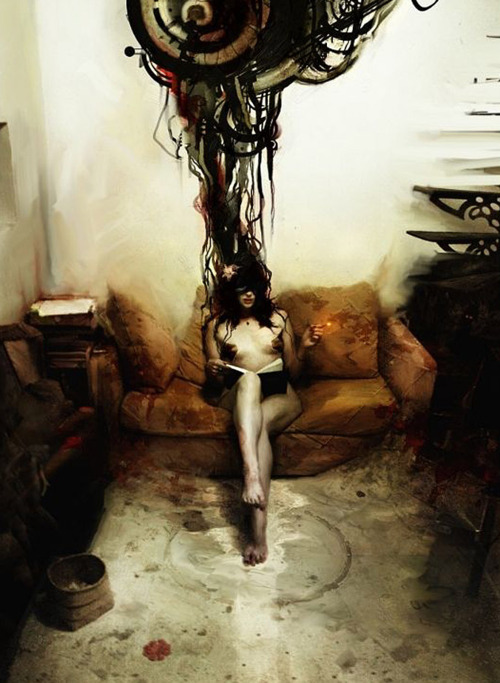 Image credit: roman-noir.com Bastien Lecouffe-Deharme (B.) – The Black Queen / Memories of Retrocity
I'm a sucker for harmonies and handclapping. Both are in abundance. This is one of those bands I discovered because cool DJs keep remixing them. I look forward to getting to better getting to know their sound in 2012.
That echoey guitar and croon combination creates some surreal magic in "Top Bunk." Sounds like: Animal Collective made a mainstream surf album. And what's with that drum that sounds like an explosion at the bottom of the ocean? How are they producing that dub-step worthy bass out of an ordinary drum kit? If you like music that sounds like the soundtrack Venice Beach surfers hear as they drown, get this whole album, because it's equally, oddly, delish.  Just for fun, here's a video of "Top Bunk" made with old Shwarzaneggar movies. It's well-produced but I can't imagine it's official, what with copyright and all.
The word "mature" comes to mind: musicians that have been doing this for a while and have put some thought into the lyrics and how it all comes together. The guitarist plays around a bit, showing off but not too much, while the percussion trades off with a variety of synth melodies. Sadly, I haven't heard the rest of this album, so please share in the comments if you can tell us if the other songs are as good as "Repatriated." If this song ended at 3:40 it would still be one of the year's best, but it goes on for another minute just to make sure you know: Handsome Furs know how to rock.
In the proud tradition of Le Tigre, Heartsrevolution is an indie pop band fed on the mother's milk of riot grrrl punk rock. "I.D." goes back and forth between the identity politics of war and pop music. It's framed as a prayer so when she says "I think we got a bad connection… Can you hear me now CAN YOU HEAR ME NOW? NOW?" the urgency is to a savior that doesn't seem to be listening. My favorite part is where she puts a new spin on that pop-shlock icon when she says that her fear "is that the world will be filled with Britney Spears. 'It's Britney Bitch. And I'm not that innocent.' We're not that innocent." But she's not (only) talking about pop music fans, she's talking about the claims about American jingoism's good-vs.-evil motif. She's saying we know the war cries are a bunch of BS. Suffice to say, there's a lot more going on in this band than a bunch of crystal bling on a pink ice cream truck. If you like electro but wish you could find something with a bit more substance, Heartsrevolution may be the flavor you crave.
I.D. "LYRICS VIDEO" from HEARTSREVOLUTION on Vimeo.
Jon Fratelli can't seem to get his shit together. First the Fratellis make it big, and he quits the tour because he got too effing "tired." Then he formed the truly fantastic Codeine Velvet Club, and quits it before they have a chance to build any kind of legacy. But what he lacks in caffeine/direction he makes up for in talent. It's straightforward indie rock, with rollicking guitars, "Whoah-ohs," and charming lyrics about life on the road and the women he meets along the way.
You can listen to Mister Heavenly's entire album on Youtube, which is how I can tell you it's a solid work with ample variety between songs. I wanted to pick one song from Out of Love and while I think "Bronx Sniper" is my favorite, the songs are so wonderfully different from one another you may find another suits you better. It's no surprise, as Mister Heavenly is made of folks from The Shins, The Unicorns, Islands, Man Man and Modest Mouse. They even got Michael Sera to play bass for them on tour. Something good is bound to come of such a combination, and it seems that they've lent their talents in equal proportions.
This single appeared in 2010 but it didn't get released on Amazon til 2011, so it's fair game by my rules. Oberhofer sounds a bit under-produced in a world of Britney Spears, and that's a good thing. It sounds like they recorded it on the second take, capturing all of Oberhofer's emoting, whistling, and glockenspiel-tapping in its random, glorious splendor.
Initially "Go Alien" sounds like a Jonsi clone, which we could stand to have a few more of, so that's fine. But twenty seconds in, some banging drums and guitar-slapping let us know that this isn't all going to be lullaby music. I like that the build-ups and breakdowns in this song don't fit the standard chorus-to-refrain ratio. Where most songs kind of do the same thing for a minute and then give you a repetitive refrain, Oh No! Yoko seems to change course every thirty seconds, taking you on a nice ride.
Patrick Wolf put out a ton of material in 2011. Most of it struck me as a pretentious but I'd listen to it again. Perhaps his seriousness keeps "The City" from slipping too far into bubblegum territory. It's a new wave love song in the tradition of Crowded House or Tears For Fears. I love the piano melody, and only wish it were louder in the mix." The City" harkens to the days when a saxophone was a perfectly fine backing instrument for a rock song.
Hey, who uses this much flanger anymore, or at least uses it well? This song is an anthem, a song to dedicate to your friend who's just gotten out of a long-term relationship or failed the bar exam. It seems all these years we've been in need of a song that proclaims "Get back into the rhythm of things and come to the bar!" So thanks for that, Pete.
Polarsets have put out one of my top-5 favorite albums of 2011, and "Leave Argentina" is just one song worth checking out (See my Best electro of 2011 list for a few others). The first thirty seconds of this song are nothing to get excited about, which makes the contrasting burst of sound all the more compelling when he breaks into the refrain. There's all kinds of bells and electronic percussion and general exuberant wackiness. The refrain of "Leave Argentina" is one of many reasons Polarsets is one of the bands to keep an ear on in 2012.
It's a simple guitar melody, some slow drums, occasional handclaps, and a few well-placed backup harmonies. When simplicity works, it's all the more effective (see: The XX), and this Chicago band has pulled off a song just as catchy as some of the pop numbers with double the instruments, clappers, and singers.
I haven't had a chance to listen to the rest of their latest album, but "Fire" is a sign that The Submarines are just as good as they were on the last one (which is worthy of blowing your milk money). It's hard to believe it only takes two people to make songs this infectious. Maybe the synergy comes from the fact that they're married. Maybe it is because singer Blake Hazard is a Harvard-grad whose great-grand-pappy wrote The Great Gatsby. Whatever the case, I hope this couple stays lovey-dovey long enough to get the fame they deserve.
Aren't they cute?
This is probably the most over-played song on this list, but The Best Indie Rock of 2011 wouldn't be complete without it. Thank goodness we have the Black Keys to pick up where the White Stripes abandoned the cause of reminding us of rock and roll's long-time love affair with the blues. The Black Keys are back with another album, chock full of guitar-bragging in the fine tradition of Billy Gibbons and Angus Young.
The Go! Team are happy to present another album of songs for cheerleaders to rock-out to. If you're looking for songs to do kartwheels and splits by, this is the one for you, and this here's the finest track. Bonus points for naming their title track after the anti-consumerist holiday, though from vague lyrics are more likely to inspire a round of beers than a revolution. There's a terrific Go! Team remix in my Best Dance Songs of 2011 list.
Three reasons for three songs by Naked & Famous :
they've put out arguably the best album of 2011.
"Young Blood" is arguably the best song of 2011.
they're the up-and-coming band to watch for 2012.
Naked & Famous makes songs that are instantly likeable that I never seem to tire of. Add these to your heavy rotation, serve them at breakfast lunch, and dinner. They will only grow in your favor.
When it comes to dark, shoegaze-y rock born of some shadow-world version of 50s LA surf-rock, the Dum Dum Girls are not alone. The Raveonettes have produced another album for people who like their guitars with maximum fuzz.
The Wombats make rock music that's as close as it can be to being described as "cute" without crossing the line into twee. "1996" is a full-blown nostalgia trip for twenty-somethings. If you liked "Let's Dance to Joy Division" or "Kill the Director" or "My Circuitboard City" here's more of the same.
I didn't want to like this song because I overplayed The Ting Tings' first singles until I was sick to death of girl rap-singing over guitar and a catchy beat. I thought I was through with all that, but "Hang It Up" refuses to be ignored. I forget to not like it, catch my head nodding, and when the guitar breaks out 1:40 I'm all "sweeeeet!" My apologies, Ting Tings. You still got it.
Fast drums and shrill synth and then it's all over too quickly. Another in the category of great-bands-from-Sweden, Those Dancing Days are an all-girl rock band in the tradition of the Go-Gos and Sleater-Kinney. While their last single was more in the pop tradition of the Bangles this songs shows that Those Dancing Days can rock out like the late-90s girl groups.
Speaking of Sleater-Kinney, the Portlandia star is still making music, with her band Wild Flag. Perhaps should have been on my Best-of list, no?
The first time I heard TuNe-YaRdS I thought they were some sort of Afro-Carribean revival. And maybe they are, despite the fact that singer Merrill Garbus is not an African dude, but a petite woman as white as a stationary shop. It's not really cleary what genre TuNe-YaRdS is trying to be, which is half of what makes them so great. The other half is that crazy voice, that swoops off in a thousand directions, at times pretty, at times raucous, at times soulful, but never predictable.
You know how your best friends are your partners in crime? How half the amazing pranks, road trips and crazy antics of your life only happened because of some off-hand brag or dare you had to live up to? It's about time someone wrote a song about it. "You Told the Drunks I Knew Karate" is a fun and clever duet in the tradition of alt-folk story-telling. If you like Hello Saferide or the Moldy Peaches, be sure to give this one a listen.