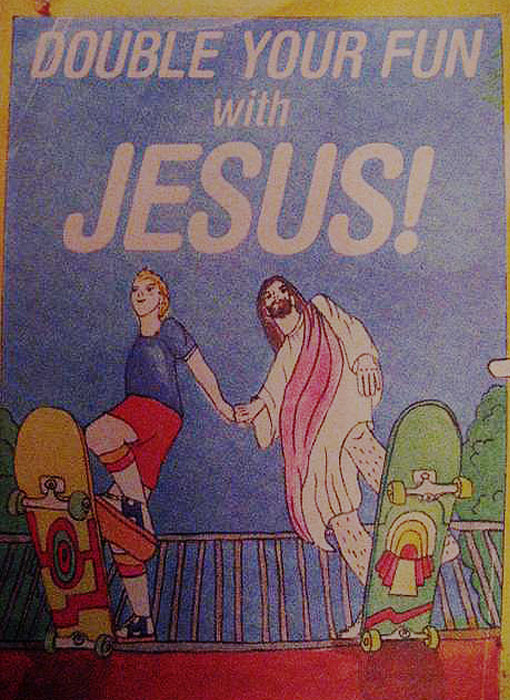 I'm DJing an end-of-the-world party on Friday, so I've been looking for songs about the Rapture. I won't use most of them, but I thought I'd share a bunch with you for your own playlists, mostly because I don't want your set to consist of nothing but tired old Metallica, Black Sabbath and Dio (proudly, this site remains 100% Metallica free!).
I'm a big Clash fan, so I may try to work "Armagideon Time" into my set. If you like this, also check "London Calling," which is about the end of the world nuclear-annihilation style, or "Straight To Hell." The latter Lily Allen does a sweet cover of. Did you know Lily Allen is Joe Strummer's god-daughter? That explains a lot about why she is so adorable.
Here's one maybe you haven't thought of: Blackilicious has a song called "The Sky is Falling." In the refrain he hints at the Rapture:
Rain and thunder and lightning
Crumbling buildings
Falling hurricanes
Earth shattering membranes
Scattering insane
Happening
Souls keeps burning
And the sky keeps plummeting
Another great hip-hop song that may land on my set list is Immortal Technique – Point of No Return. Any excuse to play Immortal Technique should be encouraged and, though this is a political rap, I hope the drunkards will notice that the Rapture is indeed a
singularity
moment, aka, a point of no return.
You may be contemplating playing Blondie's big hit, "Rapture," even though it has nothing to do with apocalypse. I can't really blame you, as Blondie is one of my all-time favorites. But let me take this opportunity to share my favorite Blondie song from my favorite Blondie album because it's at least as appropriate as a song about men from Mars stealing cars. That would be "11:59," where Debbie sings, "It's 11:59 and I want to stay aliiiiiiive." Would it be wrong to play two Blondie songs in my set? I'm still contemplating.
For the dancefloor, here's an old Paul Oakenfold remix of Faultline and the Flaming Lips. It's one of those "gosh the world must be ending because I'm losing you" songs. Which is about Jesus, right? Right? OK, probably not but I think you could still get away with it. People don't listen when they're dancing. You could also play "Do You Realize," though I'd advise against it because it is among The Flaming Lips' most irritating songs.
Of a similar theme is this Swedish band called Le Sport (formerly Eurosport but: lawsuits and stuff). This is a cute indie-pop song called "It's Not the End of the World." Play it for the optimists.
You can't get a hipper, more appropriate tune for Judgment Day than "When the Man Comes Around" by Johnny Cash. Apparently the man in black
wrote thirty pages of lyrics
before choosing which ones he put in the song, so the least we can do is play it when the big day comes. Personally it will take a better DJ than I to fit this into my electro indie set–though that may not stop me from trying. Be sure to get the version that opens and closes with Mr. Cash reading from the book of Revelations.
I super-duper want to work in Angelspit's irreverent "100%." It's a lot darker than I think hipsters in the Mission will want to get jiggy to, but I may do it anyway just to be able to loop her in saying "God is in control" over the next song. Then again, if The Man Upstairs is on the fence about whether you rise up or burn in hell, this song on your playlist may just tip the scales against you.
Jens Lekman is entirely inappropriate for any dance situation, but if you're just chilling on the Rapture, you may want to throw on his "The End of the World is Bigger Than Love." True words right there.
Speaking of End of the World songs, there's this one originally by Skeeter Davis, that I'm sure you've heard before but possibly blocked out because it is too depressing and cheesy. I was looking for the rock cover, which I think is by Broken Social Scene, and couldn't find it but did happen upon this version by Margo May. Supposedly she's known for going on American Idol, but why dwell on her embarrassing past? What I do know is that this version is lovely and a capella, so you could easily mash it up with one of your favorite beats.
I've been digging this track by Weeknd lately, mostly because when he says, "Trust me girl… you wanna be high for this" I want to know what the hell he is talking about. Could it be Judgment Day? I know that's a debate at least one person will be having on Friday night.
Speaking of hot shit that's only vaguely relevant, try Janelle Monae's "Dance or Die." That woman is so talented. Just saying.
Also, you may be tempted to play the band The Rapture. If that's the case, you'll probably want to choose their song "The Devil."
Originally I was mega-excited to find this Julee Cruise cover of REM's "It's the End of the World As We Know It (And I Feel Fine)." What could be finer than a fresh take on the perfect song, sung by the chick who did the Twin Peaks soundtrack? But alas, it is really. Fucking. Slow. Even at chipmunk speed, it's still under 100 beats per minute and frankly I fooled around with it so much that I got sick of hearing it. But it has no beat so you can throw it on a slow, sexy instrumental with heavy bass. Let me know if you have better luck than I did, mash-up masters.
Finally, the pièce de résistance: check out this gorgeous Blue Oyster Cult cover from electro cats Van She. What better way to ring in the witching hour on D-Day? No really, if you have something better leave it in the comments.