I love the latest article in The Awl, "I Am An Object Of Internet Ridicule, Ask Me Anything". It's about a typewriter busker who ended up getting labeled as a hipster in an Internet meme. For one thing, I dig typewriter buskers.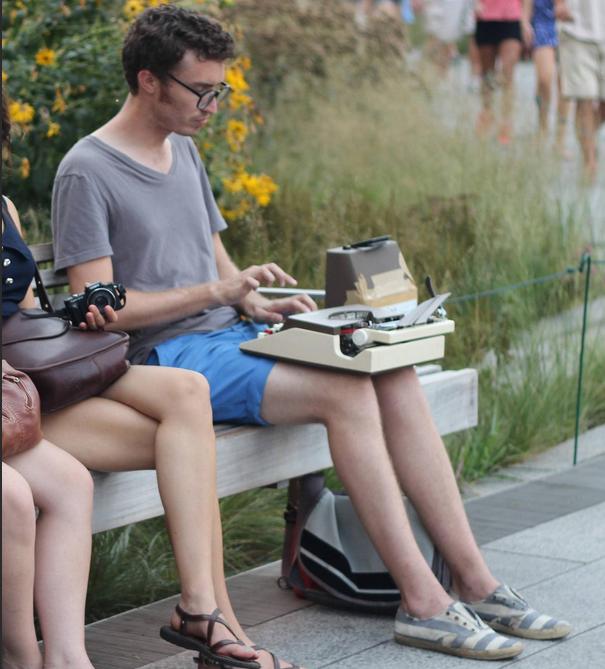 More importantly, as my regular readers may recall, I've written two articles about hipster hating, which were republished in a Kansas City entertainment weekly.
It's this weird quirk of mine that I'm opposed to threats of violence against strangers, simply because of their fashion, beer and bicycle choices, no matter how strange those choices may be. The post in The Awl chronicles what it's like to be on the receiving end of such threats, and reminds us that people doing weird things (like God-effing-forbid, taking a typewriter out in public) often do them for perfectly understandable reasons. Personally, I take an even more radical position that I don't think people should be bullied for weirdness, even if there's absolutely no rationale for their fashion crimes. If only the people posting their hatred of hipsters could devote that passion to fighting climate change or fixing the economy. But no, those are not issues they feel affect them personally, not in the way a guy with clunky glasses, shorts, and a typewriter does. I mean, WHO GAVE THAT GUY THE RIGHT TO SIT IN A PARK WITH A TYPEWRITER?
Before you call the lynch mob though, I ask that you please read the articles I've posted on this. Maybe some reason can be talked into you hipster haters before your pitchfork and torches army burns down the whole village.