Recently Dictionary.com went to the effort to defend figurative use of the word "literally" on their Hot Word blog. Before we get into the details, just a quick reminder so you're up to speed:
literally

– adj. What actually happened.Synonyms: Actually. Antonyms: figuratively, metaphorically. Usage: I was literally rolling on the floor laughing.
This comic from the Oatmeal explains the controversy nicely.
So you see, many people are only pretending to "literally piss our selves laughing" while those of us who've actually pissed ourselves, sadly, have no way to express our mirth.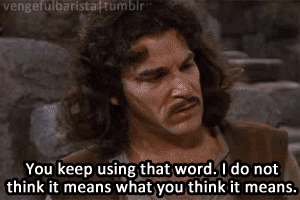 OK, now that everyone is clear what we're discussing with what is literally my biggest pet peeve, back to the Hot Word. This thoroughly awful post really calls into question the authority behind Dictionary.com's blog, and not only because it is wrong. Let's take it point by point. Continue reading Against the Figurative Use of the Word Literally →