Janet said she wanted to go the Missouri Lounge to make fun of all the hipsters. Everyone agreed that The Missouri Lounge was just crawling with the little buggers.
I was surprised. Not about the Missouri Lounge—though I'd always thought the shack looked like more of a redneck dive—but that Janet wasn't herself a hipster. She had the chunky, short-cropped hair and the thick black plastic glasses. But no. She was a hipster hater. How could I get them confused?
We ordered drinks and Janet picked out the most egregious violators and made fun of their outfits and drink selections. We did not stay long. Janet made a request from the DJ and there was some misunderstanding, or altercation. So we left.
That incident got me thinking. Did those people deserve to be made fun of? What made them worse people than Janet? What the hell was a hipster, anyway?
Since that day many moons ago, if I hear someone use the word I always ask them what it means. Two things quickly became apparent: 1) no two people seem to have the same definition 2) never have I ever heard the word used in a positive context.
For my money, a hipster is a person with an overly-developed sense of irony. But by that definition, the guy I know who is most likely to be a hipster is a 35-year-old Indian metalhead. He's also the biggest hipster-hater I know. The "H-word" also seems to be associated with indie rock, though no one seems to know what the fuck that is either.
Here is what some of my research has come up with:
"Hipsters are trust fund babies who go to expensive private art programs."
"Hipsters are people who wear mismatched, ill-fitting clothes and think they are hot."
"Hipsters are the shallow types who live in the Williamsburg neighborhood in Brooklyn."
"Hipsters drink Pabst Blue Ribbon and ride fixie-bikes and make fun of normal people."
Oh well then, that's clear. If I am in Williamsburg and I meet someone in an art program I can assume they are shallow and living off daddy's money. Additionally, if I meet a girl on a fixed-gear bike in Goodwill frocks I can assume she is a snotty bitch who can't wait to talk about me behind my back. It would do the world a good deed to run off with her inexpensive union-made brew, taunting and laughing.
Much like the yuppies in The Last Days of Disco, "hipster" seems to describe a group of people whom everyone seems to agree is omnipresent and easily identifiable yet no one can find one among their circle of friends.
In case you can't tell, this whole thing pisses me off. Being cruel to someone based on the way they dress, the music they listen to, their neighborhood or school of choice is discrimination. It may not be based on a thousand years of oppression like the prejudice we all like to think we're too good for, but it is certainly the opposite of the moral high-ground the hipster-haters think they have.
The American College Dictionary defines Bohemian as "a person with artistic or intellectual tendencies, who lives and acts with no regard for conventional rules of behavior."
I see very little to distinguish the hipster-hating of today from those who hated the punks and before that the hippies and before that the beatniks and on and on. No one can deny the fact that the hipster is the new bohemian, except the bohemians themselves, who've been tricked into thinking that the hipsters are the fake bohemians.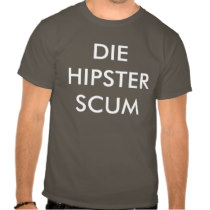 Thus we have an odd scenario where sews-her-own-clothes girl (e.g. hipster) and shops-at-the-Gap girl (eg the anti-hipster) can both commiserate on how much they hate the shops-at-Urban-Outfitters girl ("fake" hipster). SewsHerOwnClothes thinks she is immune because she is more authentic than those people who shop at Urban Outfitters. But you can bet your best pair of Pumas that Gap girl and the Urban Outfitters "fake" hipster would be just as quick to make fun of the freak girl with the weird clothes she she probably made on her grandma's sewing machine (as if that's a bad thing).
The whole anti-bohemian attitude strikes me as a backlash against a group of people who feel slighted by those who have a different set of moral standards. An example would serve better than an explanation…
One of the definitions of hipster from Urban Dictionary:
Someone who thinks that they are being "special" and "unique" for liking some underground bullshit no one else cares about. And they pointlessly look down on people who don't know anything about indie culture, because that's the only thing they know anything about. They're quick to call the rest of the world conformists when in reality, they are the ones conforming by partaking in a "too cool for mainstream so i am going to reject it by looking and acting like a grungy asshole" way of life only to seem uber-fashionable. They just end up looking like idiots.

Hipster: I won't drink at starbucks, it's too corporate.

Non-Hipster: I want a Louis Vitton purse because they are cool
Hipster: You're such a conformist, haveing [sic] a Louis Vitton purse is so unoriginal. I like my purse I found in the gutter for $4 dollars.
Non-hipster: but it's fugly
Hipster: yah, but no one else has it. It's completely unique.
Non-hipster: that bum over there has something pretty similar though.
Hipster: You're ignorant because you can't see the real beauty in life.
I don't have time for this, I'm gonna go to my cave of an apartment and listen to some indie rock you've probably never heard of….
Non hipster: You need to see a therapist
Hipster: I am my own therapist.
So the sad fashion whore who wrote that definition feels as though she is being judged because she doesn't care where her clothes are made or how her consumption choices affect the local economy. And she's right! I think the person who wrote the definition above is shallow and ignorant! I expect to be hated and unkindly labeled by anyone who thinks avoiding Starbucks is an example of "some underground bullshit." That's totally fine. Fuck that girl, and the guy who runs http://www.latfh.com, we were never meant to be friends!
But when I see the anarchists, punks, queers, ravers and other manner of adorable bohemians bitching about the "H" word, it's too much. When someone seeks to say cruel things about a nonconformist, hipster is the first word they turn to, even if the nonconformists themselves think a hipster is something entirely different.
The focus on the hipster's inauthenticity as an outsider, art appreciator, or moral consumer is a defense mechanism based on the labeler's own insecurities in those same areas. The Louis Vitton-lover in the example above is an extreme example because s/he can't even conceive that anyone would care about the journey of their designer purse from sweatshop to landfill. Your average anti-bohemian likes to think they appreciate art and philosophy as much or more than any weirdos with their weird music and their weird hair and their weird clothes. The assumption is that any reasons for being different are not better or coming from any set of values, merely contrivances. In this way, anti-hipsterism becomes another extension of the big-city-elitist versus corn-fed-anti-intellectual debate that is the hallmark of the American class system.
When the freaks, geeks, queers and quacks take aim at hipsters they are supporting conformity, regardless of what they think it means when they are around other bohemian-types.
Let us celebrate the hipster. Let us drink inexpensive beer and wear used clothes. Let's  listen to obscure music. Let's have debates about crap surrealist literature and condone veganism. La vie Boheme, under any name: embrace it.
Edit: read the follow up to this post, Hipster Subculture Ripe for Parody [Time Magazine]