At long last, here is the list of the Hottest Remixes of 2009. How was this list made? Songs were judged by their propensity for eliciting uncontrollable ass-shaking, head-bobbing and shout outs to your deity of choice. I narrowed further by including only remixes, thus no mash-ups or straight-out hot dance songs. Also, every song was to the best of my research actually produced in 2009…since you can't exactly look this stuff up on Amazon. Final judging was done by listening to the list backwards to ensure that each song is indeed just that much finer than the last. This is an exercise that I highly recommend.
These mixes are not the songs that make me think "This is really good." No, no, these are the ones that leave me clutching my breast, uttering, "SO GOOD, SO fucking GOOD" with a primal vehemence that is beyond rational: It is animal. If you feel the need to howl while listening, it's okay, I understand. Just try to follow it up with some shake-shake-shimmy.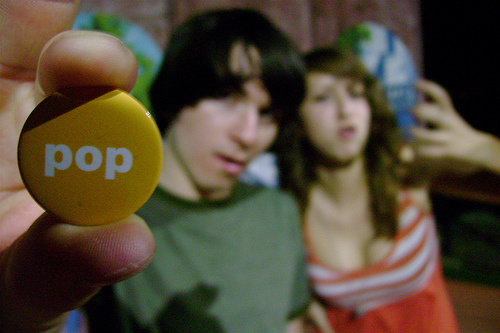 (*1st blogged Jan 2009 on Hot Biscuits)
Sick sick sick sick sick. Such a perfect combination of HEARTSREVOLUTION's dark electro "razor sharp candy coated glass" with DD's outstanding beats. How can you not hear that scary/sexy voice chanting "if you love me than do it forever" without taking that as a personal call to the dance floor? Personally, my body begins a series of twitches, tremors and knocks that some may call dancing.
1st blogged on Jan 2009 on Pretty Much Amazing)
This is not a song that I ever expected to hear in a remix. DJs tend to stick with new songs and when they go for something older its usually a song that's been established as a pop classic.
Instead, Gigamesh lent his skills to something so dreamy and nonsensical it would be tough to pull off. And yet: what's so beautiful about this mix is how seamless it is. The bass doesn't feel at all out of place on those strange but beautiful layered vocals. It's not a complicated mix, which is fine, because too much cutting and chopping would destroy the surreal magic of the original. Gigamesh somehow ties up all that surreal magic and delivers it to the dance floor.
In my experience, the reaction to this remix has been a combination of wonder and delight. It works just as well in the chillroom as the get-down-throw-down room. And it is very easy to mix with other songs, despite not having a cumbersome, long intro.
(Only 3 bloggers, all in Feb 09! First was http://www.ohhcrapp.net)
At first it's just a delightfully upbeat electro pop remix. A clever opening treble sounds like a computer imitating a beat boxer. Then as it drives into the refrain this tasty treat is exactly like Britney Spears: Underneath that pretty pop is something dark and gritty. When the refrain kicks in with the grungy guitar the song growls a little, contrasted with his sweet pretty voice. and just when the music takes a turn back to the pretty he turns gritty, shouting: "You ain't so pretty!" It may be the PMS talking but this mix is so pretty I could cry.
(1st Blogged Jul 2009 on Sheena Beaston)
Songs like this are why I am obsessed with music. Oh! Her little "Oh-uh-oh"s! The whistle! The drum solo! The bass drop that fills me with chills and trembling! Oh-uh-oh! Dancing is indeed my fucking remedy, Little Boots, and these two DJs consistently draw me to the dancefloor. If the snake oil salesmen sold a potion that made me feel like this song does, I'd be the first in line for the cure.
(1st blogged Jan 2009 on This Big Stereo)
The biggest surprise of this list was not who made it, but that the whole thing didn't end up being a litany of The Twelves greatest hits. By far the most fun live DJ show I've seen, The Twelves consistently produce adorable disco takes on the hottest indie songs. This one was my favorite of 2009, but, while some DJs have a mix of bangers and losers, any of their 2009 mixes would be a respectable addition to your Best-Of  list.
(1st blogged July 2009 on Penned Madness)
The bass on this hits like a hammer. But a pleasant hammer…a hammer of bright colors perhaps? This song was one of the few that entered my mp3 player in 2009 that never moved out of heavy rotation. Few DJs can rock a beat this hard without it sounding tacky and pasted on. Looking to hear more bangers from this LA DJ in 2010.
(1st blogged Feb 2009 on This Big Stereo)
There were a ton of remixes of both this song and this album in general when Jimmy2sox came on the scene, by DJs who's names would not be followed with "Jimmy who?" I already had my favorite "We Are the People" mix all picked out, and my second favorite too. Then this came along. The first time I heard that saxophone solo I was hooked. Who the hell adds a saxophone solo to a remix? Jimmy2sox, that's who.
(1st blogged Sept 2009 on We like It Indie)
It opens with gorgeous synths that slice like Ginsu knives. Then when you think it's showed you all it has to show, it seeds this dark bass which leads into hazy snow before picking up and up and up into some heavenly place in Emily Haine's voice. He doesn't chop it up too much, leaving choice lyrics such as "all the blondes are fantasies." No instrument shouts for attention over any of the others; it feels like a song in its own right. I know this song well (Metric is a favorite) and when I'm listening to this mix I still forget which parts are from the band and which are his production.
(1st blogged May on Discopunk)
This song is so fantastic to begin with that it needs no remixing. The spacey synths perfectly capture the nostalgia of 80s Freestyle: close your eyes and you might think you're back in the seventh grade roller skating rink. Not surprisingly, many notable DJs have lent their hand to this tune. I have the Treasure Fingers remix. Oh, how many times I've heard the Steve Aoki remix. You be good, you listen to me: this is the mix you play.
(1st blogged May 2009 on This Big Stereo
Her voice comes in like something from a dream. The pitch rises like a tornado and when the beat breaks it crashes like a beautiful wave. This, my lovelies, is where the good little disco beats go when they die.
I have nothing more to say because now I must dance.
P.S. If you own these songs, and you are under the impression that it would be wiser to remove them than allow for the puny quantity of publicity this simple blog provides, let me know and the links will disappear.
*I put more hours than I'd have liked into making sure these songs really came out in 2009. Though the first mention I could find was in 2009, that very post refers to this track on their best of 2008 list. So I sunk more time into trying to find the true release date, as well as contacting Hot Biscuits themselves. Ultimately, searching the site that released the album and the mix itself didn't post it until 2009.