Meet my new friend Pinkerton. He's 12 weeks old, with a bladder capacity of three hours, less when he's excited. This can get in the way of getting you those Best of 2012 lists. But I always have an excuse, don't I?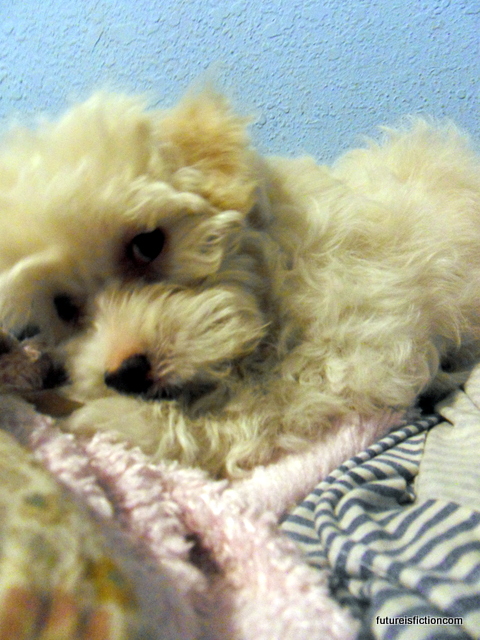 His name is Mr. Pinkerton Floyd, which is a reference to:
my mom, who has dabbled in the PI business (Pinkertons were the first private detective agency).
noir detective fiction, and the Maltese Falcon (get it, get it? The Maltese Falcon? Plus my sweetie is a big noir fan).
Mr. Pink, the bad dude from Reservoir Dogs (weren't they all?)
The lead character in Pink Floyd's The Wall, one of my favorite movies.
For your patience, here's a song. It's the so appropriate 2012 song "Dirty Paws" from Of Monsters And Men's album My Head Is An Animal. Many have picked this album as the best album of the year. It's not my favorite, but it's certainly a worthy choice.
Of Monsters and Men – Dirty Paws
Also, while I'm waiting for the song to upload…a note about the music player. It disappeared when I updated my blog's theme. That's why I'm supposed to use a child theme, I know. But I haven't gotten that all worked out yet. So the Ex.fm player will be back, and then you'll be able to listen to all the music links posted on this site like they are a playlist.
And one more picture of Mr. Pink the Maltese. Because puppies, yay!